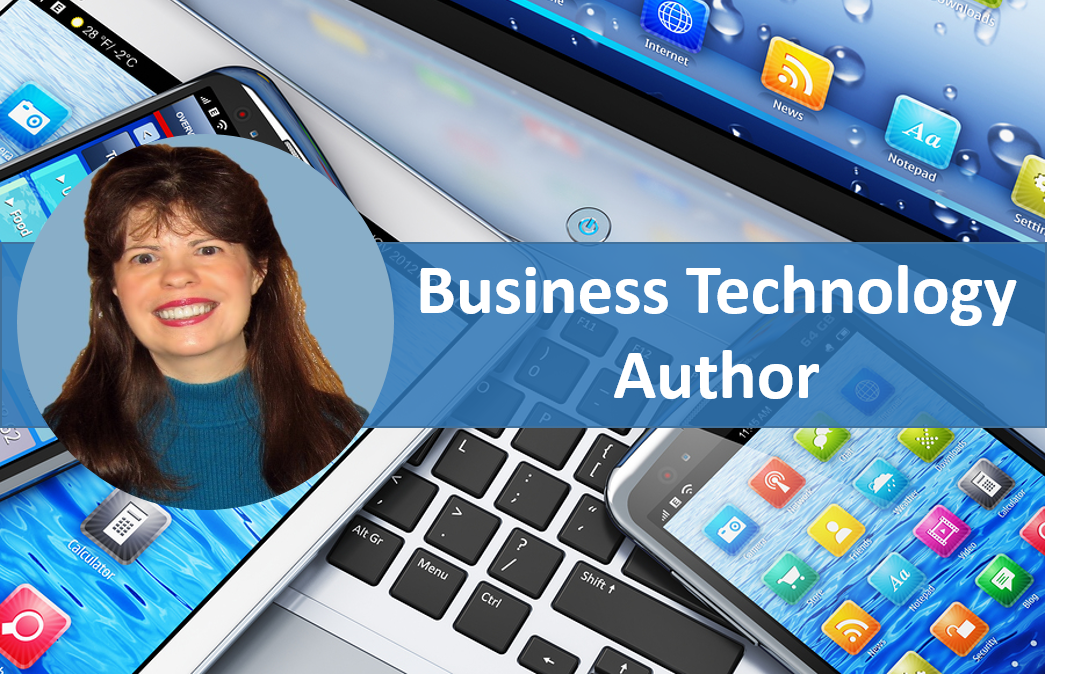 Escape Technology Overwhelm
---
Welcome! I'm Patrice-Anne Rutledge, a business technology author who specializes in making your experience with today's everchanging technology painless, positive, and productive.
I'm the author of numerous books for leading publishers, create online courses about technology, and contribute to print and online publications around the world.
Check Out My Latest Books
I'm the author of numerous books for major publishers including Pearson, Que Publishing, Financial Times Press, Prentice Hall, and Macmillan. I've written books on social media (LinkedIn, Facebook, Google+), business applications (Microsoft Office, Google Apps, Gmail, Basecamp), and digital living (working at home, online travel research).
Business technology books get outdated very quickly. Here are links to my current books, available from online and local booksellers worldwide. Stay tuned for new books on Office 2016, Sway, LinkedIn, and more!
---
Here are some of the nice things leading experts have to say about my books.
"The Truth About Profiting from Social Networking is an insightful, useful book that many marketers should keep at their fingertips."
Guy Kawasaki
Chief evangelist at Canva and author of The Art of the Start 2.0
"The most comprehensive guide to Basecamp we've ever seen. If you want to know everything there is to know about Basecamp, this is the book for you."
Jason Fried
Co-founder and CEO, Basecamp
"Patrice's book not only gives smart advice on navigating the social media waters, but does so with examples that are easy to understand and translate for use in your business."
Jason Falls
Author, Speaker, and Senior Vice-President of Strategy at Elasticity
Early in my career, I started contributing to numerous print and online publications and continue to do so today. My clients include both magazines (Smart Solutions, Small Business, Business Strategies, Global Business Technology Report, Career Woman, and Interactive UK) and websites (InformIT, Dot-Com Builder, Healthy Living Today, and LearnLots). Here are a few samples.
Work with Me
Interested in working together? In addition to writing books, I'm also the founder of Pacific Ridge Media, a boutique content marketing agency. Services include content marketing strategy plans, custom content development, digital content audits (web + blog + social), content marketing training, and Content Compass, a strategy session + custom content roadmap designed for entrepreneurs. 
Learn More

I've been quoted in dozens of media outlets around the world including CNN, Inc., Fox News, ABC News, CBS/KDKA, MSN, AOL, Orange County Register, ZDNet, USAA, CareerBuilder, Simpatico.ca (Canada), and Correire della Sera (Italy). I'm available for interviews, expert commentary, profiles, and more.
Let's Talk!
Using this form is the fastest way to catch my attention in my overcrowded inbox. If you're one of those people who really hates forms, however, you can also send email to patrice @ patricerutledge. com.
Let's Get Social!
Feel free to connect with me on any of the following social sites. I'm most active on LinkedIn and Twitter, but also maintain a presence on Google+, Pinterest, Instagram, and Facebook.