I've authored, co-authored, and contributed to several digital marketing and business technology books for major publishers including Pearson, Financial Times Press, Macmillan, and Ziff-Davis Press. Because the technology field changes so rapidly, many of these books are sadly outdated already (although they were cutting edge at the time of publication). Stay tuned for news about new books coming up in 2018!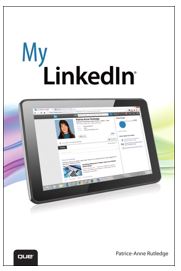 My LinkedIn provides detailed guidance on making the most of LinkedIn's powerful professional networking features in a visual, step-by-step format. This LinkedIn book also offers real-world advice and suggestions on how to maximize LinkedIn's potential, create a profile that attracts attention, and avoid LinkedIn networking pitfalls. Translated into Spanish.
"Unlike a traditional tutorial, what makes this book work is the real-world practicality of the instruction complemented by incredibly useful notes, tips, cautions, and Plain English clarifications that enable you to read the lessons in sequence or seamlessly zero in on specific areas of interest."

Jon Hansen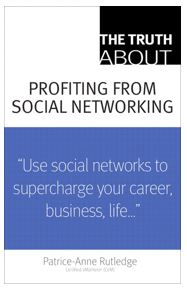 The Truth About Profiting from Social Networking is a concise guide to making the most of social networking for business; endorsed by leading experts including Guy Kawasaki and translated into French and Italian.
"The Truth About Profiting from Social Networking is an insightful, useful book that many marketers should keep at their fingertips."
Guy Kawasaki
"Patrice's book not only gives smart advice on how to navigate those waters, but does so with examples that are easy to understand and translate for use in your business."
Jason Falls
"Rutledge teaches us to think big, don't hesitate to reach out to whomever you wish. It's a great place to start when following your passion."
Danny Iny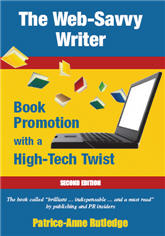 The Web-Savvy Writer: Book Promotion with a High-Tech Twist is a comprehensive guide to online book promotion. This book covers social media, author websites, email marketing, online publicity, and much more. The first edition was published in 2006; the second edition in 2008.
"An indispensable guide to the very latest trends in online book promotion, a must for any author who wants to succeed in today's competitive publishing environment. This book is jammed with information on everything from online promotion basics to emerging technologies such as podcasting, blogging, and RSS, offering detailed guidance on how to promote both your book and your career as an author."
Dan Poynter
"A MUST read if you want to utilize the most cost-effective and viral methods in promoting your book like blogs, pay per click advertising, online reviews, ezines and more. Patrice plows new ground filling the gap in the book promotion marketplace with her highly focused book on bringing technology to the forefront in a book marketing campaign. She's truly brilliant. "
Scott Lorenz
WordPress on Demand provides detailed guidance on completing dozens of common WordPress tasks in a visual, step-by-step format. This WordPress book covers both WordPress.com and self-hosted WordPress (WordPress.org), offering real-world advice and suggestions on how to save time, avoid problems, and create a well-designed, high-quality site that attracts your target audience and achieves tangible results, even if you have no design background.  A list of recommended themes and plugins is also included.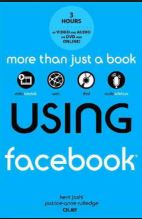 Using Facebook is a complete Facebook learning system in one package. A detailed print/electronic book provides illustrated instructions for using all of Facebook's features. More than 60 video tutorials enhance these instructions for visual learners. And podcasts provide Facebook strategy on the go.
Writing a Book?
I also offer book ghostwriting services for entrepreneurs and executives, book editing, and custom book proposals.