The idea that "content is king" is as true today as it was in the early days of the Web, but no one ever said that you have to create all that content by yourself. With content curation, you can achieve many of the same benefits of content creation—but in a fraction of the time. Here are three content curation tools  that can help you to maximize your online visibility and build thought leadership.
No, I didn't forget the "big daddy" of all content curation tools: Pinterest. Look for my favorite Pinterest resources in an upcoming post.
1. Scoop.it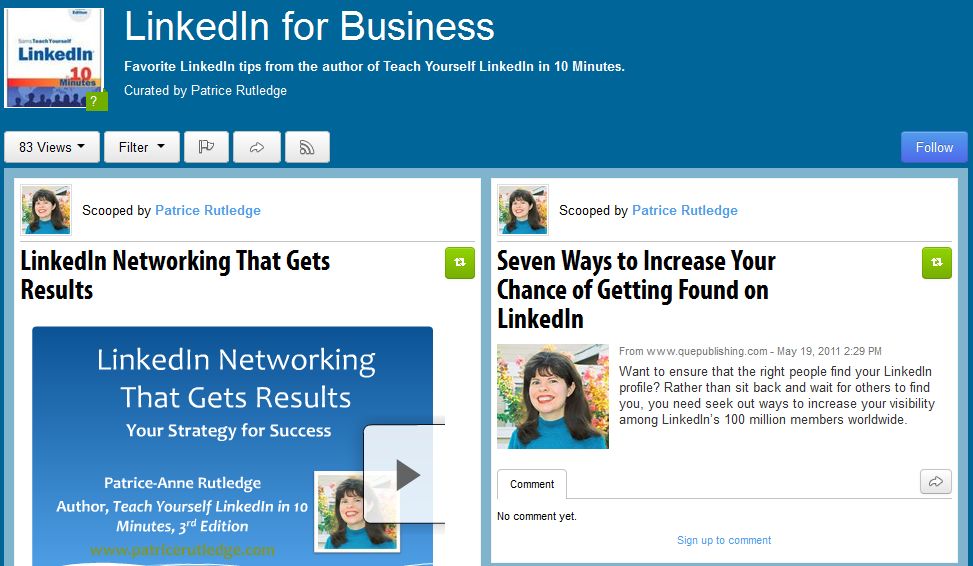 With Scoop.it, you can create a magazine-style page dedicated to a specific topic, curated from a variety of content sources on the Web including blogs. Instead of displaying your content chronologically, as on a typical blog, you can arrange the content you curate into blocks on the page.  To make curation easier, Scoop.it suggests content related to your target keywords from a variety of sources, including Google News, Digg, Twitter, and YouTube.
Another way to add content to your page is to install the Scoop.it bookmarklet. Drag the button to your browser's bookmark bar; then just click it when you want to add interesting content you discover as you surf the Web. As with most content-curation tools, Scoop.it lets you connect with and follow other users and integrates with your existing accounts on other social sites such as Facebook, Twitter, LinkedIn, and Tumblr.
 2. Storify
Storify is designed to help you create stories by using social media. Storify offers several built-in sources for content, including Twitter, Facebook, Flickr, YouTube, Google, SlideShare, and Audioboo. You can also import an RSS feed or use the Storify bookmarklet to add other content quickly from around the Web. Your stories display on your Storify site, but you can also publish them to Twitter, Facebook, WordPress, Tumblr,  Drupal, and MailChimp (to publish via an email newsletter).
3. Curate.us
If you would rather curate content on your own blog or website, consider using Curate.us. With this useful tool, you can embed clips of images and text from other sites into your own site, where you can add your own analysis and commentary. Each clip includes built-in attribution to the source site. Curate.us lets you format and customize the appearance of your clips, adding to their visual appeal. Other features include a bookmarklet for your browser, a clip history for easy reference, and social sharing on sites such as Twitter and Facebook.
Have you had success using these content-curation tools? Do you have other personal favorites? Share your stories below.