With hundreds of millions of active users, Facebook is a great place to showcase your company's products. By adding a store to your Facebook page, not only can you sell your products, but you can also encourage other Facebook users to share your products with their friends. Here are three cool tools that will get you up and running with a Facebook store quickly and inexpensively.
1. Ecwid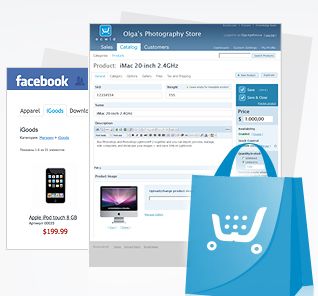 Ecwid (short for e-commerce widget) offers a free Facebook store app that supports up to 10 products including digital downloads. Optionally, you can upgrade to paid plan starting at $ 15 per month if you have more products. Ecwid also enables you to create an online store on your website, which you can sync with your Facebook store.
2. ShopTab
ShopTab offers three plans, ranging in price from $10 to $20 per month. The ShopTab Facebook page serves as a demo for its own Facebook store application. All plans include a free seven-day trial and enable you to either connect to an existing store or sell via PayPal.
3. Storefront Social
Storefront Social is a full-featured Facebook store solution that offers four plans ranging from $4.95 to $29.95 per month.  All plans offer a free trial that doesn't require a credit card. Storefront Social works with your existing online store and directs Facebook users to that site to complete their purchase. If you don't have an existing store, you can use PayPal or Google Checkout to create your store.
TIP: If you already have an online store, see if your vendor offers a Facebook app. For example, Shopify and Bigcommerce both offer free apps for creating a Facebook store.