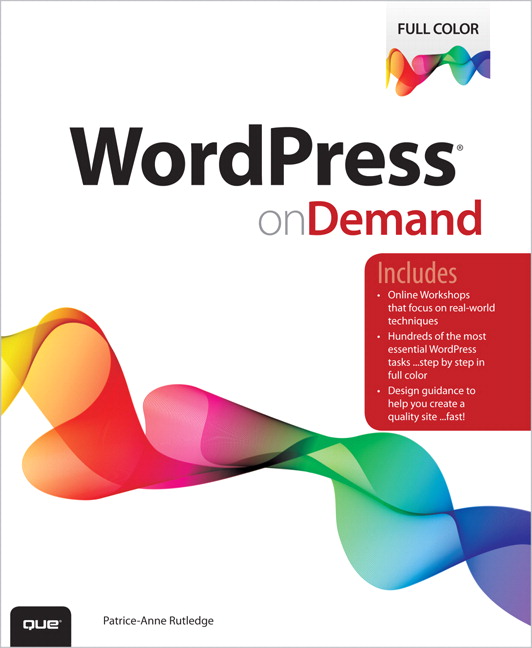 WordPress on Demand (Pearson/Que Publishing) provides detailed guidance on completing dozens of common WordPress tasks in a visual, step-by-step format.
This WordPress book covers both WordPress.com and self-hosted WordPress (WordPress.org), offering real-world advice and suggestions on how to save time, avoid problems, and create a well-designed, high-quality site that attracts your target audience and achieves tangible results, even if you have no design background.  A list of recommended themes and plugins is also included.
Buy the Book: Amazon | Barnes & Noble | Pearson.
Read an Excerpt: Download a sample chapter of  WordPress on Demand.
In this WordPress book, you learn how to:
Choose between hosted WordPress.com and self-hosted WordPress (WordPress.org)
Select the right domain name and web host
Create a WordPress website in minutes
Select, upload, and customize themes
Create and format posts and pages
Incorporate media files such as pictures, audio, video, and PDFs
Select, install, and configure widgets
Select, install, and configure plugins for added functionality
Create and modify custom menus
Administer user comments and control spam
Create a responsive site that's easy to read on mobile devices such as smartphones and tablets
Manage privacy, security, backups, search engine visibility, and more